Have You Selected The Right Document Shredding Company For Your Business?
As business information continues to move to digital format, online theft and data breaches are a growing concern. Surely no Springfield organization would carry out business without first protecting its services with the necessary IT solutions, firewalls, and other online security measures. Keeping your company's information safe should be a top priority, and this goes for printed documents as well because while some companies have reduced their paper output, it will never be gone for good.
How can you make a conscious effort to ensure you are properly protecting your vital business records? Outsource your shredding requirements, and be sure to choose the right document shredding company to handle it. A qualified and industry leader with the right certifications will improve your internal security measures and most importantly, keep you compliant with significant privacy legislation that we are all mandated to follow.
If you are a business owner who currently shreds documents in-house, it's time to reconsider whether this is a smart decision for your day-to-day business efficiency. Office shredders firstly are not very reliable; they often break down, and cannot shred through staples, clips, or elastics. This means an employee will be required to remove these items first, plus spend countless hours operating the machine. Is this good time management? Hardly. Allow your staff to focus on those business tasks they were hired to do in the first place, and turn to professionals for the secure shredding of your sensitive material. You'll be glad you did!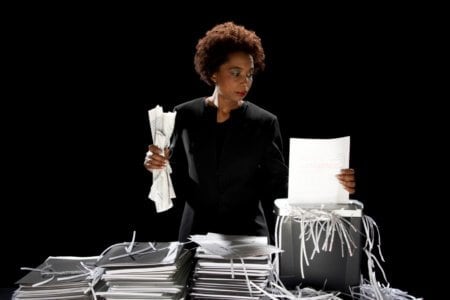 Advantages You Reap From with Professional Document Destruction Services:
For simplicity and convenience, you may want to think about using Complete Electronics Recycling as your reliable source for shredding. In doing so, you'll experience significant peace of mind, while cutting back on your costs. It's important, however, to consider what solutions you need before you select a company to do business with. For example, not all paper shredding companies offer purge services and ongoing, regular paper shredding services, or electronic destruction services. Determining what your exact needs are will help you to decide which professional services you should be seeking out. A one-time purge service is usually used by companies who are in need of removing a significant number of sensitive documents due to an upcoming move, or office closure, or perhaps simply an annual clean-out.  In this case, documents are collected and shredded directly on-site through the use of our mobile shred trucks or can be dropped off at our facility for processing if the volume is small enough.
If you are a Springfield business owner who could benefit from routine, regular service and prefer the idea of consistent shredding services, our scheduled shredding option is probably the most suitable option for you. Not sure what makes sense for your company? The team at Complete Electronics Recycling is more than happy to assess your current document consumption/disposal habits, and suggest some solutions for you accordingly.  With your agreement, an appropriate collection schedule can be established that meets your specific needs. We will service your documents with very little disruption in your work day, and you may watch the entire shredding process take place if you so wish. We operate industry-leading shredding equipment that is the safest and innovative in the industry. There is no chance of information recovery with our document shredding solutions, securing your documents every step of the way.
Whether your Springfield business is looking for a one-time purge service or would like ongoing, regular document shredding program, it's in your best interest to hire an experienced and skilled document shredding company.  For service that is not only enjoyable but is also trustworthy, we highly suggest you partner with a company that offers:
Uniformed, screened, and background-checked professionals
24/7 emergency service
Security-screened service
A reliable and thorough chain-of-custody
Collection on-site at your location, followed by speedy shredding that you may witness
Cross-cut shredder technology and multiple shred sizes
Recycling of shredded material
Certificate of Destruction provided for each shredding job
Privacy laws are constantly changing and penalties for non-compliance are becoming far more severe, which makes shredding even more necessary. As a business owner, sensitive business and customer information needs to stay secure while in storage but it's equally crucial that documents being disposed of are also done in a secure method that protects information from exposure. Shredding is the only solution that does just that.
Learn how Complete Electronics Recycling can help your business begin a productive document management program that guarantees protection over your vital information. Our professionals constantly stress the importance of your security, and it is always a top priority of ours to promise information protection.
Contact Complete Electronics Recycling to learn more about secure document shredding solutions.
Call 417-864-4415.