Protect The Data Found On Your Hard Drives
Are you aware that just one hard drive can hold hundreds of thousands of sensitive files? When a digital file is "erased" from a computer, this data is actually still on the drive, as are "erased" e-mail messages and all online activity. In most cases, even reformatting or overwriting is typically not enough to stop sensitive, proprietary, or confidential data from being recovered by a determined individual using the right techniques and equipment.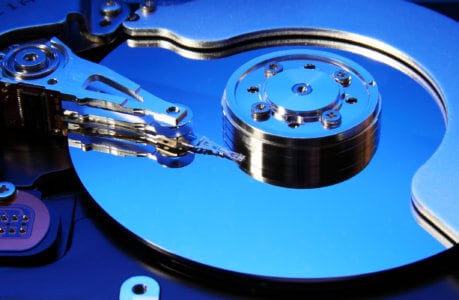 Why Degaussing is Not the Answer
Most current hard drives use thicker shielding and need a much stronger electromagnetic field in an effort to properly destroy all the data
There is no way to guarantee that a specific degaussing machine is strong enough to remove all the data on each and every hard drive
Degaussing equipment is costly and critical care must be taken to look after nearby belongings
Degaussing does not offer proper documentation that indicates the erasure process, which is required for compliance and regulatory purposes
Decreases the re-marketing value of a standard computer
Is only compatible with  magnetic media
May leave you vulnerable to data breach, should data be discovered following degaussing
What can you implement in your Springfield workplace to avoid data theft from electronic media?
Be sure to destroy all unused hard drives at the end of their life cycle, through hard drive destruction services. Always confirm you're your third-party provider of choice that they have a secure chain of custody in place to provide you with adequate peace of mind and so that you know 100% that your data is safe from the potential hands of criminals.
Consider conducting ongoing regular clear-outs of storage facilities and do your best not to stockpile old, unused hard drives. The Data Protection Act specifies that personal data should not be stored longer than the reason for which it was obtained, to begin with — in essence, even the simple act of storing them could mean you are failing to comply with the law.
Carry out regular reviews of your company's information security policies and procedures to integrate new and emerging variations of electronic media. Always be sure your employees receive training in regards to this high-risk area of data security.
Reliable and Secure Hard Drive Destruction
The cost to destroy hard drives is insignificant in comparison to the potential risks involved in not doing it. Hard drive destruction is the most effective way to permanently destroy all information.
Data Destruction Services provide the most secure and cost-effective way to dispose of end-of-life hard drives and media tapes. Whether you have a small amount of a large stockpile of old hard drives, our shredding is completed directly at our facility and our professionals ensure it is a fast and efficient process.
If you're in need of reliable hard drive destruction services in Springfield, our team is here to keep you protected! Call us today to schedule a convenient date and time for your business. Reach our specialists at 417-864-4415.